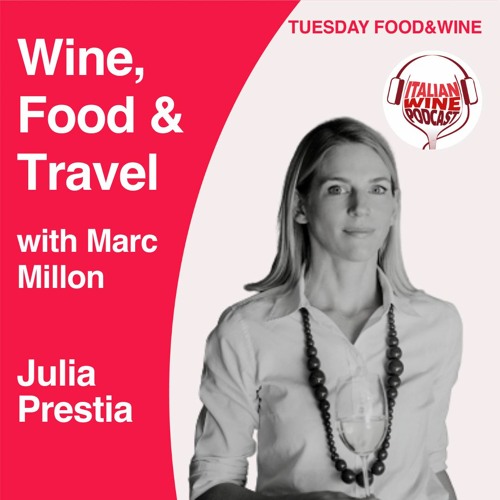 Welcome to Episode 1134 in which Marc Millon interviews Julia Prestia, in this installment of Wine, Food & Travel with Marc Millon on the Italian Wine Podcast.
More about today's guest:
Born and raised in Vienna, Julia Prestia is Austrian by birth, but Italian by adoption. Julia studied law and economics, worked in London and since childhood dreamed of living in the country – she has now realised her dream. Julia is the owner and administrator of Tenuta Venturini Baldini. Since 2015, together with her husband Giuseppe Prestia, they have embarked on a major relaunch of the entire property with a holistic approach, in which every detail has a fundamental value for the whole. The aim is a greater appreciation of the territory and its most renowned wine, Lambrusco. "The fil rouge of the project is excellence," explains Julia Prestia. "We work to ensure that every detail reflects this goal: we are among the first wineries in our region to have obtained Organic Certification, our vineyards are immersed in a park with a rich historical and natural heritage that borders seamlessly on the Roncolo Park. And, last but not least, our wines gain international recognition. One hundred and thirty hectares, 32 planted with vines, gently nestled on a hilly area between 300 and 400 metres above the sea level, where the earth elegantly blends clay and sand. Besides a unique natural and oenological heritage, the estate also features a historic vinegar cellar – the oldest in the province – and a newly restored resort, Roncolo 1888 offering 11 rooms and 6 suites.
To learn more visit:
Website: www.venturinibaldini.it
Instagram: https://www.instagram.com/venturini_baldini/?hl=it
Linkedin: https://www.linkedin.com/company/venturini-baldini/
Facebook: https://www.facebook.com/VenturiniBaldini
More about the host Marc Millon:
Marc Millon, VIA Italian Wine Ambassador 2021, has been travelling, eating, drinking, learning and writing about wine, food and travel for nearly 40 years. Born in Mexico, with a mother from Hawaii via Korea and an anthropologist father from New York via Paris, he was weaned on exotic and delicious foods. Marc and his photographer wife Kim are the authors of 14 books including a pioneering series of illustrated wine-food-travel books: The Wine Roads of Europe, The Wine Roads of France, The Wine Roads of Italy (Premio Barbi Colombini), and The Wine Roads of Spain. Other titles include The Wine and Food of Europe, The Food Lovers' Companion Italy, The Food Lovers' Companion France, Wine, a global history. Marc regularly lectures and hosts gastronomic cultural tours to Italy and France with Martin Randall Travel, the UK's leading cultural travel specialist. He is soon to begin a regular series on Italian Wine Podcast, 'Wine, food and travel with Marc Millon'. When not on the road Marc lives on the River Exe in Devon, England
To learn more visit:
quaypress.uk/
marcmillon.co.uk
vino.co.uk
quaypress.com
LinkedIn: linkedin.com/in/marc-millon-50868624
Twitter: @Marc_Millon
Let's keep in touch! Follow us on our social media channels:
Instagram @italianwinepodcast
Facebook @ItalianWinePodcast
Twitter @itawinepodcast
Tiktok @MammaJumboShrimp
LinkedIn @ItalianWinePodcast
If you feel like helping us, donate here www.italianwinepodcast.com/donate-to-show/
Until next time, Cin Cin!

Genre