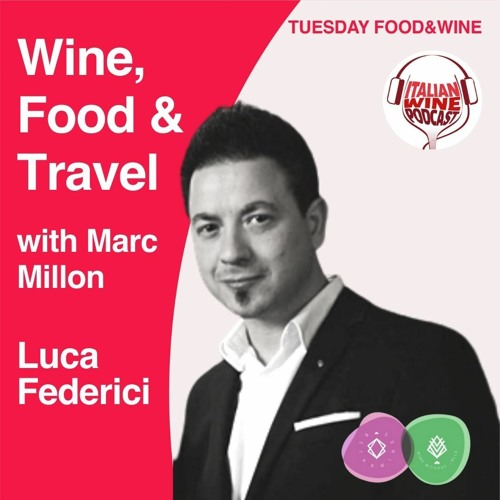 Welcome to Episode 972 Marc Millon interviews Luca Federici of Cantina Federici in this special 5Star Wines & Wine Without Walls episode of Wine, Food & Travel with Marc Millon on the Italian Wine Podcast. This is part of a special sub-series in which Marc interviews the winners and the contributors of the competition in the coming weeks!
More about this winery:
From the love for their territory, the passion for the vine and the farming traditions that have been handed down by the Federici family for 4 generations, the winery "La Baia del Sole" was born in the early 1980s, located on the border between Liguria and Tuscany, in the town of Luni from which the best wines were already leaving 2,000 years ago to reach the seat of the Roman emperor Augustus. Second of two brothers, Luca Federici, grew up in the wine industry in the family business and graduated from Pisa in 2011 in Viticulture and Enology. A member of Assoenologi since 2012, in 2016 he was awarded the "Future Prize" at the Mondial des Vins Extremes competition as the best young producer. In 2021 he wins the Oscar Green award for his winery project in the category "sustainability and ecological transition" The wines he follows and vinifies have won important awards in many international competitions.
If you want to learn more you can by visiting:
Website: www.cantinefederici.com
www.instagram.com/cantinefederici
Facebook: www.facebook.com/cantinefederici
More about the host Marc Millon:
Marc Millon, VIA Italian Wine Ambassador 2021, has been travelling, eating, drinking, learning and writing about wine, food and travel for nearly 40 years. Born in Mexico, with a mother from Hawaii via Korea and an anthropologist father from New York via Paris, he was weaned on exotic and delicious foods. Marc and his photographer wife Kim are the authors of 14 books including a pioneering series of illustrated wine-food-travel books: The Wine Roads of Europe, The Wine Roads of France, The Wine Roads of Italy (Premio Barbi Colombini), and The Wine Roads of Spain. Other titles include The Wine and Food of Europe, The Food Lovers' Companion Italy, The Food Lovers' Companion France, Wine, a global history. Marc regularly lectures and hosts gastronomic cultural tours to Italy and France with Martin Randall Travel, the UK's leading cultural travel specialist. He is soon to begin a regular series on Italian Wine Podcast, 'Wine, food and travel with Marc Millon'. When not on the road Marc lives on the River Exe in Devon, England
If you want to learn more about today's guest, you can by visiting:
quaypress.uk/
marcmillon.co.uk
vino.co.uk
quaypress.com
LinkedIn: linkedin.com/in/marc-millon-50868624
Twitter: @Marc_Millon
Let's keep in touch! Follow us on our social media channels:
Instagram @italianwinepodcast
Facebook @ItalianWinePodcast
Twitter @itawinepodcast
Tiktok @MammaJumboShrimp
LinkedIn @ItalianWinePodcast
If you feel like helping us, donate here www.italianwinepodcast.com/donate-to-show/
Until next time, Cin Cin!

Genre