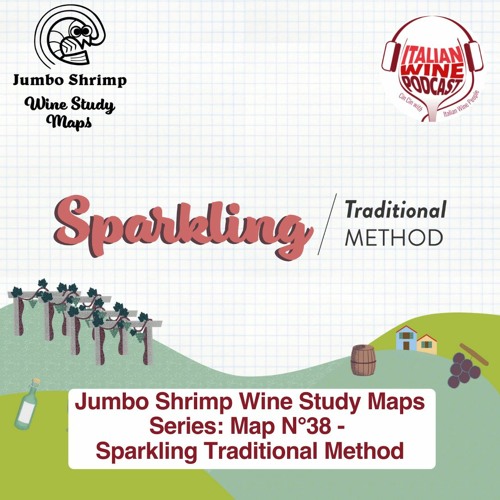 Welcome to Episode 1081 The Jumbo Shrimp Maps Series. Today we are going to talk about Map 38 the Traditional Sparkling Wine Method.
About the Series:
We have specially created this free content for all our listeners who are studying for wine exams. Since Stevie Kim discovered Rosie Baker's hand drawn maps on Instagram, our in house editorial and graphics team has been working on this project, and now the maps are available to purchase in Beta form, while they undergo the final proofing and editing by our Expert Advisory Board. It's a 3 layered project, because we know everyone learns differently. We now offer the complete box set of 39 maps, this series of podcasts with the maps narrated by our crack team of wine educators, and finally the Study Guide Book which will be publish later this year. Our map project is in no way a substitute for the material set out by other educational organisations, but we hope all the Wine Students out there will find our map project a new, exciting and useful tool for learning.
To purchase the Beta version box set of maps, please visit mammajumboshrimp.com
To find out more about Mamma Jumbo Shrimp and how to buy the Maps visit:
www.mammajumboshrimp.com
More about the Gill Gordon-Smith IWE:
Gill Gordon-Smith IWE is a VIA expert, Artisan Producer, Retailer, Writer, Judge and Educator based in Australia's McLaren Vale Region. With Diplomas in Training Design and Development as well as Vocational Education and Training she is a WSET Certified Educator, worked with Qantas Airways developing the renowned Sommelier in the Sky Program, presents internationally for Wine Australia and co-ordinates the award winning Wine and Spirit School TAFE SA . Passionate about Italian Grapes and Wine she also produces Italian Grape Varieties in McLaren Vale. She is currently Wine Communicators Australia 2017 Educator of The Year and 2017 Australian Wine Communicator of the Year.in 2020 Gill was named AWIWA Woman of Inspiration.
To find out more visit:
Instagram: @gillgordonsmith
Twitter: @fallfromgrace1
Let's keep in touch! Follow us on our social media channels:
Instagram @italianwinepodcast
Facebook @ItalianWinePodcast
Twitter @itawinepodcast
Tiktok @MammaJumboShrimp
LinkedIn @ItalianWinePodcast
If you feel like helping us, donate here www.italianwinepodcast.com/donate-to-show/
Until next time, Cin Cin!

Genre