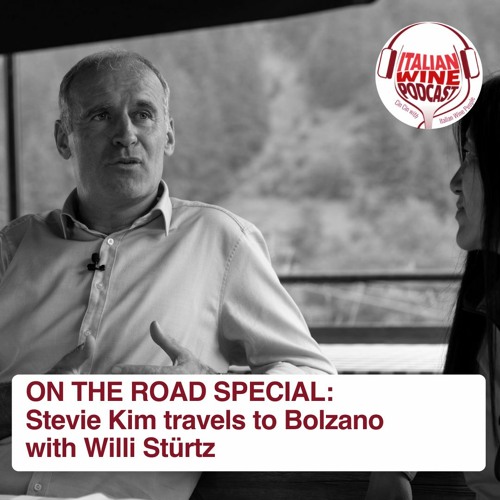 Welcome to episode 1123, another installment of 'On The Road Edition', hosted by Stevie Kim. This week Stevie travels to the Cantina Tramin in Alto Adige. Today Stevie meets Willi Stürz, Cantina Tramin's oenologist, in a special location near Vipiteno. Together they discuss their iconic Gewürztraminer, Epokale, rewarded 100 points by Wine Advocate, a first for an Italian white wine. The secret of this wine is ageing in a former Monteneve mine, at an altitude of 2000 meters.
More about today's winery
Cantina Tramin was founded in 1898 as a cooperative by Christian Schrott, the parish priest of Tramin and later Member of the Austrian Parliament. The project was implemented to protect the livelihood and future of the wine producers in this mountainous area. Today, Cantina Tramin has 160 families and about 270 hectares of vineyards.
To learn more about Cantina Tramin visit:
More about the host:
Stevie Kim hosts Clubhouse sessions each week (visit Italian Wine Club & Wine Business on Clubhouse), these recorded sessions are then released on the podcast to immortalize them! She often also joins Professor Scienza in his shows to lend a hand keeping our Professor in check! You can also find her taking a hit for the team when she goes "On the Road", all over the Italian countryside, visiting wineries and interviewing producers, enjoying their best food and wine – all in the name of bringing us great Pods!
To learn more visit:
Facebook: @steviekim222
Instagram: @steviekim222
Website: vinitalyinternational.com/wordpress/
Let's keep in touch! Follow us on our social media channels:
Instagram @italianwinepodcast
Facebook @ItalianWinePodcast
Twitter @itawinepodcast
Tiktok @MammaJumboShrimp
LinkedIn @ItalianWinePodcast
If you feel like helping us, donate here www.italianwinepodcast.com/donate-to-show/
Until next time, Cin Cin!

Genre